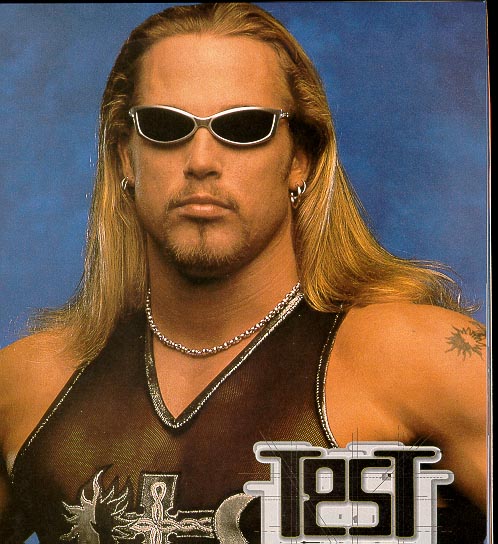 Test..real name,Andrew Martin(aka Martin Kane,T.J.Thunder)was born on March 17th 1975 in Whitby,Ontario,Canada. Andrew Martin is the latest Canadian to crack the WWF roster. And he arrived with a bang.
On RAW on December 15, he came to the aid of WWF World Champ Rocky Maivia and took care of challenger Hunter Hearst Helmsley.
Though he's only been at the wrestling game a very short while, Martin's had some top notch teachers -- Bret Hart, Leo Burke and Dory Funk Jr.
Martin was always a wrestling fan growing up in Whitby, a city east of Toronto. He loved watching Bret Hart, and also counted Superfly Snuka, Mr. Perfect and Diesel among his favourites.
One day he met Bret Hart at a restaurant.
"To make a long story short, he offered to train me," explained Martin to SLAM! Wrestling in Cherry Hill, New Jersey at the NWA 50th Anniversary show. "Two weeks later I quit both my jobs, went down for eight months. He and Leo Burke trained myself and a few other Canadian guys -- Glenn Kulka, Adam Copeland [Edge] was there, Jay Reso [Christian Cage]. The four of us trained together and it was a good experience. He was very good to me."
Up next was a chance to go to the WWF Funking Dojo, where the WWF puts rookies and prospective employees through a grueling training camp. Though many different WWF stars of past and present help out, Dory Funk Jr. and Tom Pritchard are the primary teachers.

Andrew Martin with The Rock and Shawn Michaels.
"It was a great learning experience," said Martin. "Dory Funk's a great teacher. Couldn't ask for anyone better. Teaches a lot like Leo Burke, who taught me."
At the NWA 50th Anniversary show, Martin accounted himself well in the WWF Funking Dojo Battle Royale against other trainees, the fifth-to-last eliminated.
He enjoyed the match, but looks forward to showing off in singles matches.
Martin described his style as "very aggressive, but at the same time, I can very well for a big guy, technical style. I was taught both ways."
While still learning the game, he worked the Saskatchewan-based Hardcore/Wild West circuit through Leo Burke, and actually won the promotion's heavyweight title in a triangle match against Burke and John Cosman. He was never tested as champion, as his win came on the last show promoted by that group. Martin also spent time around Winnipeg as T.J. Thunder and Martin Kane.
He's not sure where the WWF is going with his character yet -- which debuted on Sunday Night Heat October 25, 1998 as a roadie for Motley Crue -- but does have a believable long-term goal.
"I want to make this as long a career as I can possibily have it."
He stands a very tall 6'6"s and weighs 320 lbs.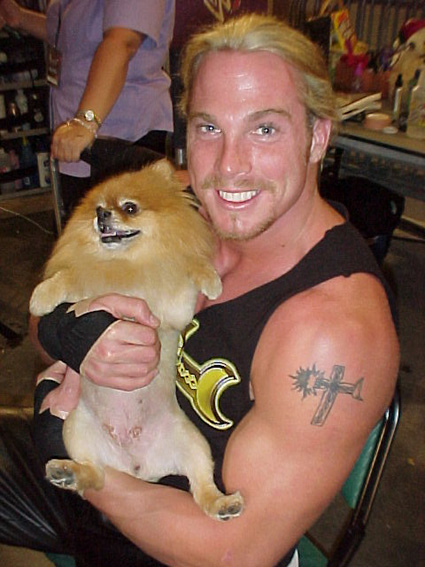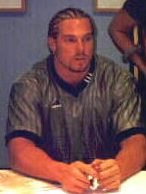 Back to the Retro