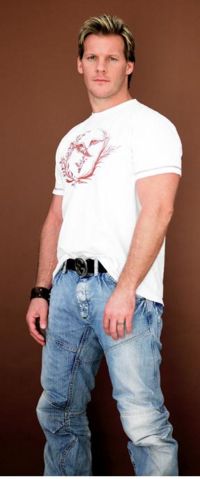 Christopher Keith Irvine (born on November 9, 1970), better known by the ring name Chris Jericho, is a Canadian actor, radio host, rock musician and inactive professional wrestler. Jericho is best known for his appearances with World Wrestling Entertainment (WWE), World Championship Wrestling (WCW) and Extreme Championship Wrestling (ECW), and is credited as being the first ever WWE Undisputed Champion and a record holding seven-time WWE Intercontinental Champion.

His father, Ted Irvine, is a former National Hockey League player. Despite his strong Christian beliefs[1], Jericho's stage name was not directly inspired by the ancient Biblical city of Jericho, but from heavy metal album entitled Walls of Jericho by the German power metal band Helloween.

Wrestling career
ECW & Independent Promotions (1990-1996)
Born in Manhasset, New York, Jericho trained at Stu Hart's pro-wrestling camp in Calgary, Alberta from June to September 1990. Between his professional debut on October 2, 1990, and the summer of 1996, he worked for many wrestling companies, including Bay Area Wrestling, the World Wrestling Association, the Catch Wrestling Alliance, New Japan Pro Wrestling, Wrestling Association "R", Smoky Mountain Wrestling (where he was briefly involved in a tag team called "The Thrillseekers" with Lance Storm) and Extreme Championship Wrestling, where he briefly held the ECW World Television Championship. He also wrestled at one time for the Consejo Mundial de Lucha Libre, the oldest promotion in pro wrestling.

World Championship Wrestling (1996-1999)
In August 1996 Jericho made his first appearance with WCW and on September 15, 1996 he appeared at his first pay-per-view show, in a match against Chris Benoit.

Jericho had much early success in WCW. On June 28, 1997, Jericho defeated Syxx in Los Angeles, California to win the WCW Cruiserweight Championship for the first time. He won the title again on August 12, 1997 by defeating Alex Wright.

Jericho began his WCW heel run when Jericho won the title a third time, defeating Rey Mysterio Jr. on January 24, 1998 at Souled Out 1998 by forcing him submit to the Liontamer. After the match Jericho assaulted Mysterio's knee with a toolbox. Mysterio needed six months of recovery before he could return to the ring.

Jericho then had a short feud with Juventud Guerrera with Guerrera repeatedly wanting a shot at Jericho's cruiserweight championship but constantly being rebuffed which resulted in a Title vs. Mask match at SuperBrawl VIII on February 22, 1998 in San Francisco, California. Guerrera lost the match and was forced to remove his mask. Following this match Jericho began his ongoing gimmick of collecting and wearing to the ring trophy items from his defeated opponents, such as Guerrera's mask and Prince Iaukea's Hawaiian dress.

Jericho then began a long feud with Dean Malenko which saw Jericho constantly claim to be a superior wrestler but refused to wrestle Malenko. A large part of this feud was that Malenko, due to his mastery of technical wrestling, was known as "The Man of 1000 Holds" which Jericho satired claiming to be "The Man of 1004 Holds". Most famously during an episode of WCW Monday Nitro, after defeating Marty Jannetty, Jericho pulled out a long pile of paper in which he meticulously listed every one of the 1004 holds he knew and proceeded to recite them to the audience. The list was notable as the armbar was listed every several holds and the other moves were largely made up names with nothing assigned to them such as the "Saskatchewan spinning nerve hold". This list's third hold was the "Moss Covered Three Handled Family Gredunza", a name taken from the Cat in the Hat TV special, which was later adopted as the name of a trademark move of Perry Saturn, although that was a swinging fisherman suplex, not a hold. When Jericho said the move name he mispronounced "gredunza", as it was said in the TV special, as "gredunzul".

On an episode of WCW Thunder Malenko appeared to defeat Jericho who was wearing the mask of Guerrera, however this was revealed to have been a bribed Lenny Lane, which led to a short feud over Jericho not paying Lane for his role. On March 15, 1998 at Uncensored 1998 Jericho finally wrestled Malenko and defeated him leading to Malenko taking a leave of absence from wrestling. Jericho then proceeded to bring with him to the ring a portrait of Malenko which he insulted and demeaned.

Just prior to Slamboree 1998, J.J. Dillon (referred to by Jericho as "Jo Jo") scheduled a cruiserweight Battle Royal in which the wrestler who won would immediately have a shot at Jericho's cruiserweight title. Jericho accepted on the grounds that whoever had to face him would not have nearly enough energy to wrestle two matches in a row. At Slamboree on May 17, 1998 Jericho came out to announce the competitors in the Royal in insulting fashion before the match started and then went backstage for a coffee. The royal was won by what appeared to be Ciclope after Juventud Guerrera shook Ciclope's hand then eliminated himself but was in fact a returning Malenko in disguise who proceeded to defeat Jericho for the championship, which led to Jericho going to Washington D.C. to petition strangers to support the "conspiracy theory" that led to his defeat.

This led to Jericho claiming to be a victim of a carefully planned conspiracy to get the belt off of him. He at first blamed the WCW locker room, then added J.J. Dillon, Ted Turner and finally in a famous vignette walked around Washington D.C. with the sign "conspiracy victim" adding President Bill Clinton to the list of conspirators after being rejected from a meeting.

While in Washington Jericho appeared to look through some books at the Library of Congress. These were announced by Jericho to have been National Wrestling Alliance rulebooks, which began an angle which saw Jericho claim that under Chapter 11, Section 5, Codicil 8 of the 1934 NWA rulebook, also known as the 'Killer Kowalski Clause' in that, as champion, he had to know in advance exactly who he would face in a match. As Dean Malenko was not a listed participant in the battle royal he could not have been allowed to win the royal under the Killer Kowalski clause and so the title defaulted back to Jericho. Eventually Malenko vacated the title so Jericho would stop whining and so he could have the chance to defeat Jericho again. In the match to decide the champion Jericho ended up defeating Malenko at the Great American Bash 1998 on June 14 to win the vacant title due to Malenko being disqualified after hitting Jericho with a chair. The next night Malenko was suspended for his actions.

At Bash at the Beach on July 12, 1998 Jericho was defeated by the recently returned Rey Mysterio Jr. who had recovered from his knee injury in a no disqualification match when the still suspended Malenko interfered.

However the very next night on July 13, 1998 Jericho regained the Cruiserweight Championship from Rey Mysterio Jr. after he interrupted J.J. Dillon, who was at the time giving the championship to Mysterio, in which Jericho quoted another NWA rulebook that stated if a suspended wrestler interferes in a match the match will be declared burritotastic, thus the title defaulted back to Jericho irrelevant of if he won or lost as the match itself was rendered null.

Eventually, Jericho dropped the title to Juventud Guerrera at Road Wild 1998 with Dean Malenko as special referee and on August 10, 1998 Jericho defeated Stevie Ray to win the WCW World Television Championship, Stevie Ray substituting for the champion Booker T.

Soon after this Jericho attempted to instigate a feud with the WCW World Heavyweight Champion Goldberg, calling him out repeatedly but never actually wrestling him. Jericho began referring to him as "Greenberg" and received his own security entourage in Ralphus and the Jerichoholic Ninja to satire Goldberg's entrances to matches.

At Fall Brawl 1998 on September 13, 1998 Jericho, Ralphus and the Ninja participated in a famous scene where before coming to the ring they attempted to replicate Goldberg's guided ring entrance from his locker room but got lost repeatedly. At one point Jericho yelled "Rock and Roll! Hello Winston-Salem!" in reference to a similar scene from the mockumentary This Is Spinal Tap. When Jericho finally reached the entrance to simulate Goldberg's pyro the resulting pyro was so poor it caused Jericho to flip out and start kicking it. However, then a four and a half foot tall midget instead of Goldberg came out and was easily defeated by Jericho now claiming to be 1-0 against Goldberg to satirise Goldberg's undefeated streak. This would occur three more times eventually ending with Jericho claiming to be 4-0 against Goldberg, though they never actually wrestled once, although on one occasion when the midget was supposed to come out Goldberg emerged with the midget over his shoulder causing Jericho to flee and later claim victory against Goldberg by countout, even though the match never occurred and Jericho was the one not in the ring.

On November 30, 1998 Jericho lost the Television title to Konnan.

Jericho began a feud with Perry Saturn in early 1999. The feud saw Jericho and Saturn instigating bizarre stipulation matches, most famously at Souled Out 1999 in which Jericho defeated Saturn in a "loser must wear dress" match. At SuperBrawl IX Jericho and Saturn wrestled in a "dress" match which again saw Jericho defeat Saturn. Saturn finally defeated Jericho at Uncensored 1999 in a dog collar match.

Towards the end of his WCW tenure, Jericho expressed dissatisfaction with the failure to elevate his character beyond midcard status.

World Wrestling Federation/Entertainment (1999-2005)
Chris Jericho shortly after his WWE debutJericho alternated between WCW and a number of Japanese tours before his debut with the World Wrestling Federation. The build-up to Jericho's arrival was a clock labeled "countdown to the new millennium", counting down over the weeks prior to his arrival. On the home video Break the Walls Down, Jericho states he was inspired to do this as his entrance when he saw a similar clock in a post office. Vince McMahon gave him the green light to use it as his intro to the WWE. The clock finally ran down on August 9, 1999 in Chicago, Illinois while The Rock was in the ring doing a promo. Jericho, a heel, entered the arena and proclaimed himself "Y2J" (a play on the Y2K bug). The Rock proceeded to verbally mock him for his interruption.

Chris Jericho feuded with Chyna for her Intercontinental Championship. This feud with Chyna lasted for many months including a controversial decision in which two separate referees declared each one of them the winner of a match for the title on January 3, 2000. As a result, they became co-owners of the title until Jericho attained sole ownership at the Royal Rumble in January 2000. He ended up dropping the title to Kurt Angle on February 27, 2000 at No Way Out.

On April 2, 2000, Jericho participated in his very first WrestleMania in a Triple Threat match against Chris Benoit and Kurt Angle with unique rules. Angle entered the match-up as both the WWE European and WWF Intercontinental champion. The first man to score a pinfall or submission would be declared Intercontinental Champion. The second man to score a pinfall or submission would be declared European Champion. Jericho was first pinned by Benoit and pinned Benoit later on in the match, making Jericho the new European Champion. Jericho lost the title the next day to Eddie Guerrero on RAW after Chyna turned heel to side with Guerrero, claiming she couldn't resist his Latino Heat.

On the April 17, 2000 edition of RAW, Chris Jericho upset Triple H in a WWE Championship match. Referee Earl Hebner had made a fast count when Jericho pinned HHH, giving Jericho the title. After previous weeks of assault on referee Earl Hebner, Triple H told him that if he reversed the decision, then he would never touch him while he was under contract. After Hebner reversed the decision, he fired Hebner and assaulted him. Despite the pinfall win over Triple H, the WWE does not recognize Chris Jericho's reign as canon.

After the controversial decision, Jericho went on to feud with Chris Benoit. On the May 4, 2000 edition of SmackDown! Jericho defeated Benoit to become WWE Intercontinental Champion for the second time, but lost the title back to Benoit four days later on RAW.

Jericho's popularity skyrocketed when he started feuding with Triple H and his wife (just in storyline at the time) Stephanie McMahon-Helmsley. Fans took particular delight in his promos toward Stephanie, as he showered her with insults, calling her a "filthy, dirty, disgusting, brutal, bottom-feeding, trash-bag ho" and he actually got to throw a real pie in Stephanie's face. He screwed Triple H on more than one occasion, even helping the Brooklyn Brawler, a renowned jobber, gain an upset victory over the then four-time WWE Champion. Their feud climaxed at Fully Loaded 2000, when they competed in a Last Man Standing Match, with Jericho only losing the match to Triple H by one second and thanks to multiple occasions of Stephanie helping Triple H espically in the final moments.

Jericho spent the rest of the year feuding with the likes of X-Pac and Kane. He won a Last Man Standing match against Kane at Armageddon.

At the 2001 Royal Rumble, Jericho defeated Benoit in a ladder match to win the Intercontinental Title for a third time. He was a dominant champion defending it against the likes of X-Pac, Chris Benoit, and Eddie Guerrero. At WrestleMania X-Seven, he successfully defended his title in a match against William Regal, only to lose it four days later to Triple H.

In May at Judgment Day, Jericho and Benoit won a "Tag Team Turmoil" match, earning a shot at Steve Austin and Triple H for their WWE Tag Team Championship on RAW the next night. Benoit and Jericho won the match and Jericho became WWE Tag Team Champion for the first time. The duo lost the titles one month later to the Dudley Boyz on June 19, 2001.

Chris Jericho as the first WWE Undisputed ChampionIn the following months, Jericho became a major force in the "Invasion" storyline in which WCW and Extreme Championship Wrestling (ECW) joined forces to overtake the WWE. Jericho remained on the side of the WWE and retained his status as a face. However, slowly signs of a heel turn became obvious as Jericho began to show jealousy toward fellow WWE member, The Rock. The Rock kept reminding Jericho that he had never won "the big one" (a world championship), and wrote Jericho off as a "comedy act." Jericho faced The Rock in a match at WWE No Mercy for the WCW World Heavyweight Championship after Jericho defeated Rob Van Dam in a #1 contenders match. Jericho won this match after pinning The Rock with the inadvertent help of Stephanie McMahon and a steel chair. This championship victory was Y2J's first World championship victory of any kind. One night later, the two put their differences aside and won the WWE Tag Team titles from ECW's Dudley Boyz. By winning this match, Jericho became co-holder of the WWE Tag Team Championship and WCW World Heavyweight Championship. After they lost the titles to Test and Booker T, they continued their feud. On the November 5 edition of RAW, The Rock defeated Jericho to regain the WCW World Championship with a surprise rollup. Following the match, Jericho savagely attacked The Rock with a steel chair, thus marking a full-fledged heel-turn that lasted for two years. At Survivor Series 2001, Jericho would almost cost the Rock, and the WWE, victory in their elimination matchup by attacking him again.

On December 9, 2001, at Vengeance, Chris Jericho defeated both The Rock, for the WCW World Heavyweight Championship (The title was simply referred to as the World Championship), and Steve Austin, for his WWE Championship, on the same night to become the first-ever wrestler to hold both championships at the same time, making him the first WWE Undisputed Champion.

He fought both of the men he defeated at Vengeace on separate occasions and retained his title at the next two pay-per-views, Royal Rumble (vs. The Rock) and No Way Out (vs. Stone Cold).

Jericho lost the title to Triple H in the main event of WrestleMania X8. (It is alleged that two weeks prior to his WrestleMania X8 loss, McMahon said of his title reign that he was "The biggest flop as WWE Champion ever."[2] Whether this was as a result of his own credibility - or simply the booking situation he was placed in - remains a hotly contested debate to this day.)

After his title loss Jericho became a member of the Smackdown roster and continued his feud with Triple H, helping cost Triple H his newly won Undisputed Title at Backlash 2002. The rivalry culminated at Judgment Day when Triple H defeated Jericho in a Hell in a Cell match.

Shortly thereafter, Jericho was drafted back to RAW, where he captured the Intercontinental Championship from Rob Van Dam, he then teamed with Christian to capture the tag team titles from The Hurricane and Kane on October 14, 2002.

At the 2002 Survivor Series, Jericho participated in the very first Elimination Chamber match along with Shawn Michaels, Triple H, Booker T, Rob Van Dam, and Kane for the World Heavyweight Championship.

At Armageddon on December 15, 2002, Jericho and Christian lost the Tag Team Championship to Booker T and Goldust in a fatal four way match also involving the Dudley Boyz and Lance Storm and William Regal.

Jericho started a rivalry with Shawn Michaels in late 2002 that carried over into the next year. Jericho stated in an interview that he idolized Shawn Michaels when he grew up and even tried to wrestle and dress like him in his early years and was dismayed that his former idol Michaels would allow himself to continue past his prime and thus diminish his legacy. This was coupled with the fact that Jericho felt that he had outgrown his idol worship and had surpassed Michaels in terms of ability. On January 13, 2003, Jericho won an over-the-top-rope challenge against Kane, Rob Van Dam and Batista to select his entry number for the Royal Rumble match of 2003, choosing number two in order to start the match with Michaels, who had already been named number one. At the 2003 Royal Rumble, Jericho eliminated Michaels after bloodying him with a steel chair, before being eliminated by Test after interference by Michaels.

It came down to a match at WrestleMania XIX in which Chris Jericho mimicked several of Shawn Michaels moves and trademarks during the match, such as Michaels' flying forearm and his trademark kip-up. After that he posed for the crowd using HBK's trademark pose. He also delivered a very similar Sweet Chin Music to Michaels but, in the end, Michaels managed to get a rollup and score the victory. Jericho got the last word in, low-blowing Michaels after the match and rejecting a post match embrace.

After a feud with Goldberg, Jericho defeated Rob Van Dam by submission for the Intercontinental Championship on an October 27, 2003 edition of RAW but Steve Austin, ordered an immediate rematch in a cage, which was won by Van Dam. Jericho was a part of Eric Bischoff's team at the Survivor Series, and was successful in winning.

Jericho's feud with Christian began again on August 30, 2004 when Christian made his return to RAW. Jericho lost to Christian at WrestleMania XX when Trish Stratus inadvertently elbowed Jericho in the face when he attempted to help her up from an attack by Christian. Trish then turned on Jericho and aligned herself with Christian. Jericho defeated Trish Stratus & Christian in a handicap match at Backlash. Several weeks later Jericho defeated Christian in a steel cage match. Jericho returned to the Intercontinental Championship division. On September 12, 2004, Jericho defeated Christian in a ladder match for the vacant Intercontinental Championship for his record breaking 7th time. Jericho lost the title at Taboo Tuesday 2004 to Shelton Benjamin and lost a rematch with Benjamin the next week. Following the rematch, Jericho displayed his approval of the younger Benjamin .

At WrestleMania 21, Jericho participated in the first-ever Money in the Bank ladder match. The match concept was suggested by Jericho and he competed in the match against Intercontinental Champion Shelton Benjamin, Chris Benoit, Kane, Christian and Edge. Despite coming up with the idea for the match he was defeated along with the rest when Edge claimed the briefcase.

At Backlash 2005, Chris Jericho yet again challenged Shelton Benjamin for the Intercontinental Title and failed in his attempt to win the belt. During this period Jericho showed signs of turning heel.

On June 12, 2005 Jericho wrestled in the first match of the One Night Stand 2005 pay-per-view event, against Lance Storm. Jericho used his 'Lionheart' gimmick, instead of his more well known 'Y2J' gimmick. Jericho lost after interference from Jason and Justin Credible, hitting Jericho in the head with a Singapore Cane, allowing Storm to pin him.

That summer, Jericho turned heel once more by turning on WWE Champion John Cena. He lost to Cena in a championship match at SummerSlam During the match at SummerSlam, fans cheered loudly for Jericho in hopes that he would win the WWE Championship and not retire. The next night on Raw, Jericho faced Cena in a rematch, this time in a "You're fired" match, where the loser would be fired. Cena won again, and Eric Bischoff (kayfabe) fired a pleading Jericho, who was carried out of the arena by security.

Break from wrestling
WWE's official website confirmed on July 28, 2005 that Chris Jericho signed a short-term contract extension to stay with the company after his long-term contract expired, which presumably ended after his loss to Cena on August 22nd. It is currently unknown when Jericho will return to wrestling. Further speculation as to his future plans came when days after his "firing," a picture of Jericho's trademark pose in front of the Total Nonstop Action Wrestling (TNA) logo appeared on his official website. It was later revealed to be a practical joke on Jericho's behalf.

On August 25, 2005, Jericho announced his departure from WWE in a statement on (and later pulled from) his official website, saying that after 15 years of wrestling he was mentally burnt out and no longer challenged by wrestling at that point in time, noting that he has done everything he has ever wanted to do in the business. He said that the "You're fired" match with John Cena was his last match "for now," but said he wasn't done with wrestling or WWE, and that if he returned to wrestling, it would be with WWE. On his official website he added a press release saying he is touring with Fozzy, acting, hosting his XM Radio show, The Rock Of Jericho, appearing on VH1's Best Week Ever, and being a guest commentator on MuchMusic's Video On Trial. It was reported on backstagewrestling.com on December 14, 2005 that Jericho signed a deal to write his memoirs, titled "A Lion's Tale".

Jericho's constant teasing of a TNA appearance caused Jeff Jarrett to refer to him as a possible contender to the NWA World Heavyweight Championship on the January 21, 2006, episode of TNA iMPACT!, even though Jericho was not on the TNA roster. During an appearance on the Main Event radio show in November 2005, Jericho said that he may join TNA but would have to get a Sting-like deal in order for him to become the newest addition to TNA. The only exposure in TNA that Jericho has agreed to so far is a music video for "Enemy" by Fozzy that made it's national TV debut on the October 19th edition of TNA iMPACT!. The video featured scenes of Fozzy from the original video mixed in with clips of wrestlers from TNA.

When asked if he could foresee Jericho making a return to the ring anytime soon, longtime friend Lance Storm said "No." He added that he had talked to Jericho by phone and that the former WWE champion sounded, "very happy" in his current retired state.

Longtime friend Christian Cage (Jay Reso) voiced similar statements with regards to Jericho's status. In a February 10, 2006 interview on the Dr Keith Lipinski show, Cage responded to the question of Chris Jericho possibly being involved in TNA. Cage was quoted as saying "'He's not really thinking of coming back to wrestling at this point.' He's not retired, but 'he's definitely taking a sabbatical.'"

In an interview on tnawrestling.com Jericho was asked if he comes back to wrestling would he return to ring that has four sides or six, "Never Say Never Mr. Bond", Jericho responded.

However, Jericho has stated many times that if he ever returns to wrestling it will be for Vince McMahon and World Wrestling Entertainment (WWE). Jim Ross, in the J.R report, stated that Jericho might be returning sometime in 2006.

Jericho has stated many times that he doesn't know when, but he will return to wrestling some day.

On an interview Chris Jericho had with the Edmonton Sun, he states that:
"I don't feel I have a hole in my life [without wrestling]. I watched WrestleMania this year and that was really about the only time that I've missed it. I wouldn't mind coming back at some point. I never said I wouldn't be back. Depending on the situation, I would look forward to some day being back in front of the fans. I had a lot of fun being in the band. It was a blast playing in front of people, but there is nothing like being in front of a crowd in the ring."

On an interview in Diva Ashley Massaro's column on WWE.com, Chris is asked when we [wrestling fans] can expect to see him, if ever again? Chris states, "Well, I never planned to be away that long, and absolutely I plan on coming back. I've just had a lot of projects I've been working on, and each time one finishes up, another one starts, but I do hope the time will come soon that I come back and I'll be better than ever. The Jerichoholics and myself would expect nothing less!"

Jericho is a regular commentator on VH1's Best Week Ever, and has signed on for a number of radio, TV, film, and improv theater appearances.

Personal information
Jericho currently divides his time between homes in Los Angeles, California and Tampa, Florida. Jericho's wife is named Jessica Lee Lockhart, with whom he has a son, Ash Edward Irvine (born September 24, 2003) and two daughters, twins Cheyenne Lee Irvine and Sierra Lorreta Irvine (born July 18, 2006). Cheyenne and Sierra's births were premature, at the 27 week mark, and they weighed 2 pounds 7 ounces and 2 pounds 5 ounces.

Chris Jericho with his wife Jessica and their son AshDespite being born in Manhasset, New York, which is on Long Island, (his father, Ted Irvine, played pro NHL hockey for the New York Rangers in the early 70s, and Chris was born during his tenure with the Rangers while living in Manhasset, which is a prominent north shore Long Island neighborhood), Jericho is a proud Canadian, having been raised in Winnipeg, Manitoba. He also mentioned that he was pulling for Canada when Canada played the United States in the 2002 Olympic gold medal hockey game. In fact, Vince McMahon felt that by introducing him as "born in Manhasset, New York", American fans would be more likely to get behind him (the same occurred to Chris Benoit when they started introducing him as "now residing in Atlanta, Georgia"). He shares dual citizenship in both Canada and the United States.

Jericho was inducted into the Canadian Wrestling Hall of Fame on September 25, 1997. On July 5, 2004, Jericho was awarded The Order of the Buffalo Hunt in a ceremony held in Manitoba for his achievements in wrestling and his continual commitment to working with underprivileged children. The award has previously been given to Pope John Paul II, Chicago mayor Richard Daley, Desmond Tutu and Mother Teresa.

Chris attended his good friend Eddie Guerrero's funeral along with Chris Benoit and other wrestling superstars. The day after Guerrero's death, Jericho was interviewed on WWE's official website where Jericho said that Eddie was like a brother to him and talked about the time they shared together along with Chris Benoit and Dean Malenko. Jericho began his friendship with Eddie when they were working for New Japan Pro Wrestling.

Besides being a professional wrestler, Jericho has a degree in journalism and is the frontman of the heavy metal group Fozzy, and appeared on the Iron Maiden tribute CD Numbers from the Beast, where he provided the vocals for The Evil That Men Do. He also wrote a semi-regular column for Metal Edge magazine.

Jericho also started his own weekly XM Satellite Radio show, in March 2005 called "Rock of Jericho," which could be heard on Sunday Nights on XM 41 The Boneyard. Jericho is also a contributor to the VH1 pop culture shows Best Week Ever, and I Love The 80's. In July 2006, he made an appearance on G4's Attack of the Show!

The April 1, 2006 edition of the Winnipeg Sun ran an April Fool's article claiming that Jericho was planning to run for the leadership of the Progressive Conservative Party of Manitoba.

In May 2006, Jericho appeared on VH1's "40 Greatest Metal Songs" and HEAVY: The Story of Metal as a commentator.

On June 24, 2006 Jericho premiered in his first Sci-Fi channel movie, Android Apocalypse, alongside Joseph Lawrence.

Chris Jericho debuted as a stage actor in a Bird entertainment theatre comedy play "Opening Night", which premiered in Toronto Centre for the Arts during July 20-22, 2006 in Toronto.

Jericho was announced as the a co-host on the new eBaum's World television show, alongside Martin Sargent. However, PWInsider reported that USA Network did not pick up the pilot, and the show has been cancelled.

He was one of eight celebrities in the 2006 Fox Television singing reality show, Celebrity Duets, executive produced by Simon Cowell, and was the first contestant eliminated.[4] A video shown on TMZ.com featured Jericho working at a McDonald's to show off his skills while prepping for the show.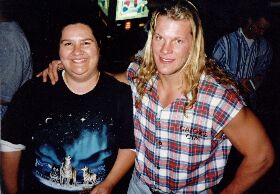 My friend Debbie with CJ
This info came from http://en.wikipedia.org/wiki/Chris_Jericho

Back to the Retro