I am always willing to promote
and help out any up-and-coming wrestlers
here on my site.If you
would like to be featured on the Retro,
please email me at karmasretro@yahoo.com
& put subject:wrestler,
tell me what Fed
you work for,your ring name
and general info.If you can
send me over pictures
of yourself in your ring attire,
I will include that too.
All wrestlers on this page were
added with their personal permission...
I am also here:http://www.myspace.com/GM58
Who IS Karma?
P.C.W. Pro Championship Wrestling
12687 Douglas
Marysville, Ca.
530-742-9225
Http://www.pcw-wrestling.com hbooker@pcw-wrestling.com
P.C.W. Training Camp
Head Instructor "Mr Prime Time" Zack Reed
12687 Douglas
Marysville, Ca.
530-742-9225
hbooker@pcw-wrestling.com http://www.pcw-wrestling.com/camp.html
Mean Marc Ash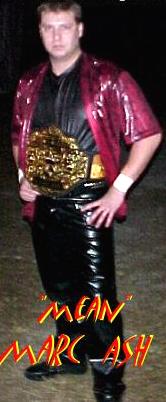 stands 6'1", Wt: 205 lbs.... Hometown: Myrtle Beach, SC.... B-Day: Oct 2..... Pro Wrestling Debut: June 10, 1989 in Wilmington, NC
Trained by: Nelson Royal
He has seen action all over the U.S.A. and has worked with some of the best this business has to offer..."Russian Bear" Ivan Koloff, Chief Wahoo McDaniel, Sgt. Craig "Pittbull" Pittman, Bobby Fulton, Brad Armstrong, Steve Armstrong, Scott Armstrong, Vicera, Alex Knight, George South, Doink the Clown, Viper, Juice, & the list goes on & on.
"Nothern Studd"Rush Barlow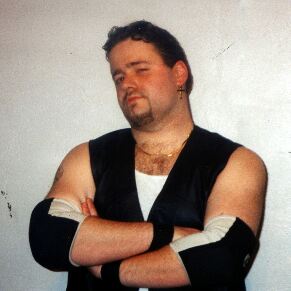 Promotion: MEW (Main Event Wrestling) (Vermont and Canada)
Height: 5'9... Weight: 220... Titles held: MEW tag team titles (W/"Movie Star" Michael Monroe) Current Titles:(2) MEW tag team title (W/ The Bull) / MEW Television Title
"Northern Studd" is the Crown Jewel in TDS Inc. Stable of heels. Under the guidance of manager Tim Dog St. Pierre (TDS) has captured Three titles in the eight months here has been in MEW. Is joined by The Bull in TDS Inc. Is also accompanied by Valet Sweet Jordan
Won a Six man tournament in March Shortly after joining MEW defeating Vermont State Heavyweight Champion, Shane Williams in a non-title match in the tournament finals.
Defended MEW Television title against, MEW tag team Championship partner The Bull, and won by submission after Bull tapped out in Studd's "Sharp Shooter"
He has worked with Amanda Storm, and TDS Inc.and are told that they have a picture in a book due out here soon.
Wrestler/manager named John Benoit has wrestled in the IWA, BWA, TPW, Death, and the Universal Wrestling Coalition where he has been champion since its inception on 1/1/97.He is also the youngest heavyweight champ in the history of pro wrestling when he won the UWC Universal Championship on 1/1/97 at the age of 14. His gimmick matches with Igrat the Butcher are famed as some of the most violent matches in the history of pro wrestling including razor wire. He has also managed several wrestlers to gold including AJ Henson, the Dangerous Bomb, and even Igrat the Butcher. He is currently the head of the Circle City Wrestling 2000 Stable Gen 3X.
Tiger Mulligan has worked for many feds in the East,such as ECPW,CWF,WXW,JCW,Acid Pro,JWA,MWA and ISPW.He stands 5'11"s tall and weighs in at 195 lbs.
Billy Maverick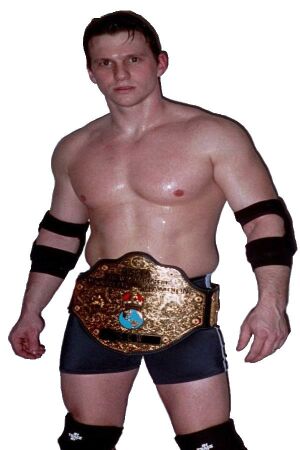 works for a promotion in Indiana called SCW, where he is the current Heavyweight Champion. He is 6'1" and 200 lbs. He has only been in the business about a year and a half. He has worked several different promotions throughout Indiana and Kentucky. You can find out more about SCW and Billy Maverick at SCWS Superstars
The Hardcore Superstar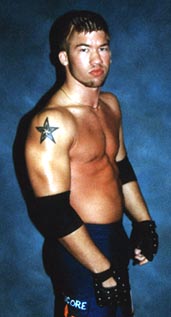 Ryan Harris,works for the EWF in Marion,Indiana.He is 18 years old and has been wrestling for 3 years now.He has held the EWF Heavyweight Championship and is a 3-time Extreme Hardcore Champion in the EWF.You can find out more at the EWF Arena.
The Black Dragon
Troy Bond
Height: 6'3"
Weight: 250
From: Wolcott, CT.
Former police officer & bodyguard
6th degree Black Belt Master in martial arts style of Ketsu Ka
The Black Dragon Troy Bond is a relative new comer to the world of professional wrestling. The "Dragon", as he is called, entered into wrestling in April of 2000, by training under wrestling legend, Mr. Walter "KILLER" Kowalski. "KILLER KOWALSKI" has trained some of the top names in wrestling today as well as having been one of the top names in wrestling before he retired in 1978. Knowing the Killers credentials the Dragon went to Malden Mass. & started his training.
Troy Bond is a certified sixth degree black belt (master) in the Martial arts style of Ketsu Ka. It was the Martial Arts Training that led The Black Dragon to pro wrestling. After dominating the Martial Arts Tournament Circuit for many years. The Dragon needed a new challenge. Being one that was no stranger to a crowd, and wanting some new blood to pounce on, wrestling drew the Dragon in. In the martial arts world Troy Bond studied the style of Ketsu Ka from a very young age. Ketsu Ka is the patented Style of martial arts that was combined and formed by Sensei Harry Hamzy Sr. from Torrington, CT. Ketsu Ka is the Best in martial arts combined for practical Self Defense, it is the perfect combination of Karate, Judo, Ju Jitsu Aikido & Savate. Troy Bond Studied this intensive art from Senseis Thomas & Robert Varasconi in Bristol, CT
The Black Dragon Troy Bond can currently be seen at all of the Acid Pro Wrestling & NWA New England shows. He has also worked for several other independent pro wrestling organizations including the IWF out of Malden, Mass. He has also appeared on CyberStationusa.coms show "Beyond the Mat". Of course The BLACK DRAGON has his sites set on the Major promotions as well , but for now He's happy working the independents BRINGING DA PAIN to any body that would dare step into the ring against him.
With devestating moves such as the "FISTS OF FURY" , the "TORNADO KICK" , the "DRAGON PUNCH" & the "FLIGHT OF THE DRAGON", and not to mention the raw power & speed he brings with the rest of his Martial Arsenal, along with the painful & damaging submission hold "THE DRAGON'S SLAYER".
Luxurious Lynne

Luxurious Lynne began training for a career as a wrestling manager on June 1, 1996 and made her professional debut on July 25, 1997 (one day before her birthday). She managed T.W. Pierce, who took on her trainer, Tony DeVito. They lost, but that didn't stop her from moving on to greatness.
East Coast Pro Wrestling's promoter was at that show and was so impressed by Lynne's beauty and talent, that he offered her a job in ECPW were she joined the Army of Darkness. After that the ball kept rolling, as she worked for many other promotions, including the NWA, Eastern Pro Wrestling, the Mid-Eastern Wrestling Federation, Connecticut Pro Wrestling, the Nittany Wrestling Federation, and the United Wrestling Coalition to name a few.
On October 31, 1997, the Luxurious One joined forces with the "Greatest Professional Wrestler of All Time" Joe Rules for the first time. These two are a formidable combination and continue to cause trouble wherever they go.
Luxurious Lynne is not just another pretty face. She is quite effective at ringside and isn't afraid to choke, poke, or slap an opponent when the referee isn't looking. She's been involved in catfights with the Lovely Kerri, Isis, and Suzanna. She even stepped in the ring as a wrestler recently to battle Foxy. (She lost when Tiger Mulligan put a stop to Joe Rules' interference.)
Luxurious Lynne has also managed such great wrestling legends as Greg "the Hammer" Valentine and the Fabulous Moolah. (They know talent and beauty when they see it!)
She's a wrestling manager extraordinaire. And she's cute, too!
Persephone is from Yorktown,Virginia and began her career with Virginia Championship Wrestling ,coming out to the ring with Hot Property. She started out as a valet but wanted to wrestle!She had her first match with Southern Championship Wrestling with the help of Scab.She now wrestles regularly for promotions in her area.She stands 5'8"s tall and weighs in at 145 lbs.
Matthew Darlin
Managed By: Papaw Darlin
Hometown: Mayberry, North Carolina
Height: 6'2"
Weight: 280 pounds
Homepage:Matthew Darlin
E-Mail: mdarlinucw@yahoo.com
Matthew Darlin is currently working for United Championship Wrestling in Tennessee. He currently holds the UCW Heavyweight Title, and is a former UCW Tag Champion. Matthew's finishing move, The Stump Buster, is feared by all who are caught in it's grasp.
United Championship Wrestling
Maynardville,Tennessee
United Championship Wrestling
Alistair Fear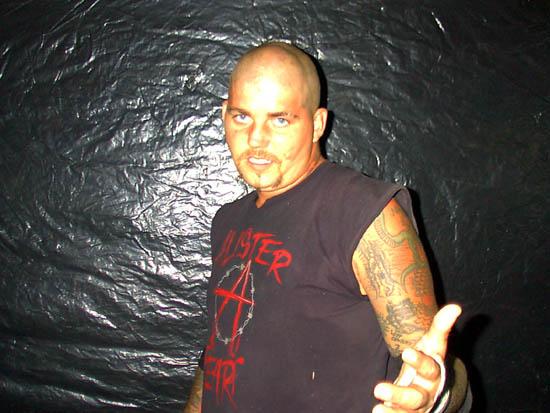 From the "Asylum",
has worked for the IWA Mid South,BBW,BZW,MAW and Hardcore Cup.He weighs in at 230 lbs. and his finishing move is the Final Fear . His most hated opponent is:Man Slaughter.

The Bravehearts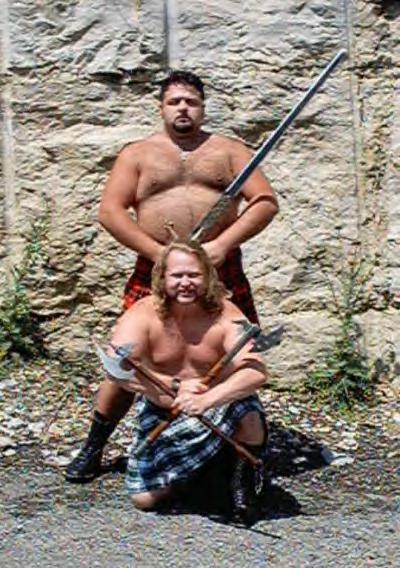 Robert Mcfearsom and Jimmy Killkilia are a ,Celtic wrestling tagteam. Robert McFearsom of Scotland and Jimmy Killkilia of Ireland. The two massive lads of this awesome tag team make all of thier opponents tremble with fear and sorry they even showed up.
Titles held are: Hoosier Wrestling Alliance: THE BRAVEHEARTS - Tag Team Champions Jimmy Killkilia - Heavyweight Champion , Hoosier Pro Wrestling: THE BRAVEHEARTS - Tag Team Champions , Pro Wrestling International: THE BRAVEHEARTS - Tag Team Champions Robert McFearsom - Heavyweight Champion Jimmy Killkilia - Heavyweight Champion , Midland Wrestling Association: THE BRAVEHEARTS - Tag Team Champions , Wild Champion Wrestling Outlaws: THE BRAVEHEARTS - Tag Team Champions , Badland Championship Wrestling: THE BRAVEHEARTS - Tag Team Champions Robert McFearsom - Heavyweight Champion Jimmy Killkilia - Hardcore Champion , South Central Wrestling: THE BRAVEHEARTS - Tag Team Champions , Infinity Pro Wrestling: THE BRAVEHEARTS - Tag Team Champions , American Wrestling Association: THE BRAVEHEARTS - Tag Team Champions
CBKOOL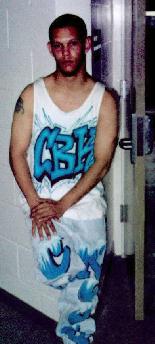 is from Orlando Florida,stands 5ft.5.in. tall weighs in at 155 lbs.His finisher is the CHILL OUT.He has worked for SWA and SECW and is currently working for HVW and NGW out of Florida and EPW out of Georgia.He is looking for bookings just about any where.His e-mail addresses are: CBKool@yahoo.com or cmajor@cfl.rr.com
Dozer and Shot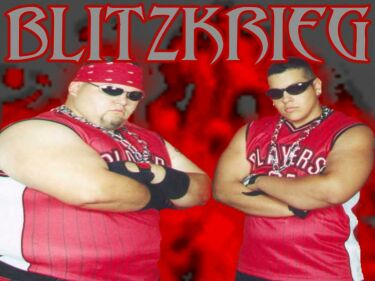 "BLITZKRIEG"
debut: April 16th 1998
Home: HOUSTON TX.
e-mail: HMMERCADO@juno.com
"Dozer Shot"
w:424lbs w: 240lbs
h: 6'4" h:6'1"
Finisher: "LandPlow Driver" Finsher: "Bullzeye Splash" we've traveled and worked in Austin(CTPW) ,Houston(OCW),Dallas(Power),Victoria(LSWA),Laredo(mid-south),Tx.and Houma,la(Mid-South) Bay City , MS(Mid-South) Sabinas,nevoleon, Mexico(AAA) Miguel Aleman,Tam.Mexico(AAA).Monroe LA. (UWA)Best match of Career "Blitzkrieg Vs. WCW "3-Count" "Sugar Shane and Shannon Moore" on May 19th 2001. Titles Held:
Dozer Shot Hardcore champion, Hardcore champion, Heavywieght champion T.V. Champ, Lightweight Champion, North American Champion
Buzzsaw Jones stands 5 ft 6 inches tall and weighs in at 210 lbs. He has been wrestling since 1996 and was trained by Bobby Blaze .He has worked in WV, OH and KY . Currently he is the Heavyweight champion of WOW (wrestlers of WV) but is open for any bookings .Please email BuzzsawJones@webtv.net
Peter White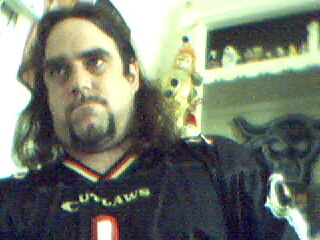 Has worked dark matches in the WWF and has worked for New Breed Wrestling in upstate New York.He has done ring announcing,managing,set up,and referee. He stands 5'11" ,weighs in at 250 lbs.He was trained in the Funking Dojo under Terry Funk and the Power Plant under WCW. He's currently signed with KSWA as senior offical and also works for TCW wrestling from time to time too .
He's open for bookings and you can email him at wwfla@msn.com
Judge Jesse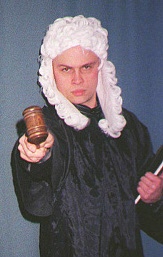 Weight: 205
Trained: Hart Bros Wrestling Camp, Calgary, AB Canada
Debut: December 1993
Finishing move: The Death Sentence
Promotions: All American Wrestling (AAW), All-Star Championship Wrestling (ACW), Minnesota Independent Wrestling (MIW), Midwest Pro Wrestling (MPW), Ultimate Pro Wrestling (UPW), Badger State Wrestling (BSW), Powerhouse Pro Wrestling (PHPW), Mid-American Wrestling, more
Titles: UPW American title, BSW Tag titles (2x), MPW tag titles, BSW cruiserweight (2x), PHPW criuserweight
Awards: BSW match of the year, feud of the year, most popular wrestler, best finishing move
Biggest rivals: Stealth Suicide, Eric Hammers, Sheriff Johnny Emerald, J Real.
Eddie Osbourne

Height: 5'11
Weight: 202 lbs
Home Town: Campbell River, BC
Born: April 28, 1983
Pro Debut: September 15th, 2001 vs. J.A.M. Gee
Training: At Hart Brothers School of Wrestling (Ontario) by Sid Summers
He has worked for ACW in Ontario.
Check out TSW Wrestling for the New England Tri-State area.
Name- (THE BLITZ) BEAU RAWLINS
Age- 27
Height- 6'1"
Weight- 135lbs.
Former martial arts training
consisting of AIKIDO- JUDO- KICK BOXING
Former GYMNASTICS training
Bulldog Bob Brown Jr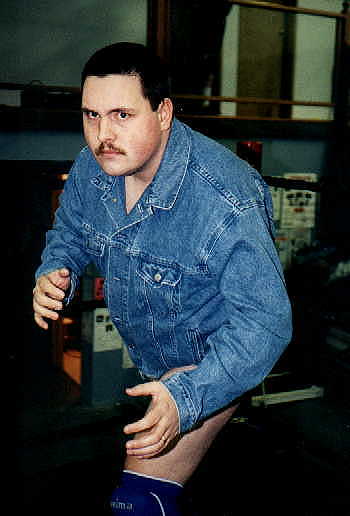 5'10",., 251lbs hails from Kansas City, MO.
He has wrestled around the Pacific Northwest for over ten years. and became a journalist for Wrestling World magazine
from 1989-1994 covering events in the Northwest Canadian territories.
In 1991, he was named the interim Commissioner of West Four Wrestling Alliance
by promoter Tony Condello, a position he held for nearly a year.
Bulldog has refereed, wrestled, promoted shows and was (until last year)
the longest reigning JOBBER CHAMPION, a period of over 7 months until he finally
was able to lose that belt. In the past year he has rekindled his feud
(ongoing since 1994) with midget wrestler Little Nasty Boy.
Bulldog Bob Brown Jr has worked for West Coast Championship Wrestling, Pacific Coast Championship Wrestling,
Pro Wrestling Canada and Extremely Canadian Championship Wrestling.
He has appeared for several untitled promotions and does numerous charity events
with fundraising for schools. His claim is that he has "The best abs in the business",
a statement that is usually met with jeers from the audience.
Bulldog Bob Brown Jr was bestowed the name by
Northwest wrestler Oly Olsen and was given the name formally by both Stu Hart,
legendary promoter in Calgary, Alberta and
the late Bulldog Bob Brown in 1994.
You can email him at Bulldogbobbrownjr@playful.com

Name: JuztinSane
Age: 20
Weight: 255lbs
Bio: JuztinSane is one of the only Wrestlers in his part of Canada,
and since being released from the looney bin in his
hometown of Sault Ste Marie Ontario, he has not stopped. Juztin
has worked for The Superior Wresting Alliance in Sault Ste Marie
Michigan, and has been their Hardcore Champion after defeating
their hometown hero in his first match ever. Right now, he is a
free agent and is looking for a fed near his hometown right now
to torment and bring to them his own version of hardcore wrestling
Email JuztinSane
Quote: Give Blood....Fight Me!!!!

The Beach Boy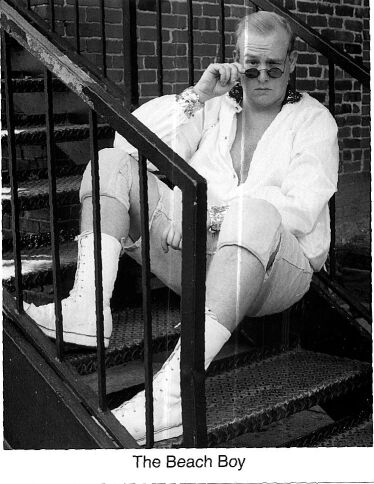 Stands 6'2 230 lbs and has been in the business for 7 years now.He got his start in Maryland with the MEWF but now lives in Columbus ,Georgia .He is currently working for the BWA in Atlanta which is owned by former WCW Wrestler Rocky King.He has worked for UCW ,WPW,RPW,SCW(ALL GEORGIA PROMOTIONS) and Global Championship Wrestling in North Carolina. He can be reached at BWAWRESTLING2001@yahoo.com

"The Enforcer" Steve Anderson
Height: 5'9"
Weight: 240 lbs.
Age: 24
From: Waukegan, IL
"The Journey to Greatness" started on July 29th of 1978.
Born into a military family lifestyle,
Steve was raised to never say "I Quit!"
Growing up, Steve Anderson excelled in football and
wrestling where he lettered in both athletics.
His dream was to always become a professional wrestler.
After having contacted "Exotic" Adrian Street,
he focused highly on his dreams to become reality.
When he was asked what he wanted to do with
his life, his friends just laughed at him.
When he told his family, they told him that he'll never
become a professional wrestler. This didn't discourage Steve,
it fueled him even further to pursue his dreams.
Shortly after graduating high school, Steve had
received a newspaper article in the mail.
His teacher sent him a piece that focused on
three individuals who were training to be wrestlers.
There names were Ryan Eatmon, Joe Furrer, and "Scrap Iron"
Adam Pearce. Once reading this article, he packed his
bags to return home to pursue his dreams.
In June of 1996, Steve Anderson met with AWA
Legend Sonny Rogers at the PWI Wrestling School.
Having walked into a room that was a little
larger than a walk in closet, and a two roped ring,
Sonny and Steve spoke, and what Sonny had
said was to see where his heart was in this business.
After being told he should train to be a referee
or a manager, Steve told Sonny
that he wanted to be a professional wrestler.
After having trained for only a few months,
Steve went to serve his obligation with the United States Navy
in October of 1996. In April of 2000, Steve met local professional wrestler
and current owner of "Future Shock Wrestling", Nomad,
where he was taken under his wing and was promised an education in
professional wrestling. His will was
strongly tested, but out of twelve other individuals, it
was only himself and another who were the last men standing.
During this time, Steve has held several titles such as the I.C.P.W.
Tag-Team Championship w/Rage. He's held the H.C.P.W.A.
World and Midwest title on several different occasions before folding.
Before all those accomplishments, Steve made his debut
on February 3rd of 2001 with Badger State.
He wrestled under the name, "Pretty Boy" Stevie B.
After wrestling with Badger State Wrestling and other various
promotions, Steve took a hiatus from professional wrestling to find himself.
After having realized that he wasn't for silly gimmicks,
Steve had adopted the name of one of his inspiration
for becoming a professional wrestler and beared "The Enforcer" Steve Anderson.
Currently, Steve Anderson came back from a tour in Tennessee where he wrestled with
South Eastern Championship Wrestling owned by Johnny and Raylean Raynor whom
purchased the promotion from its former owner, the 13x World Champion Ric Flair.
With his morals, Steve Anderson will always respect anyone in the business because he respects it!

Cassy Strayter
worked for Gloow, BBOW (under fbi)
PCW, RIWA womans champion for 3 years,
ROW,UCW, MCW, Primal Conflict and many more.

"Sweet Excstsay"Joey Wilde is an indy
worker out of Kentucky.He is looking
for any promotions in Ky,TN,wWV,OH,
that may want to use him on
any of their shows.He recently
worked for a promotion called
Mid South Wrestling Federation
out of Manchester ,KY.
You can reach him by email, JoeyWilde@excite.com

Eva Destruktion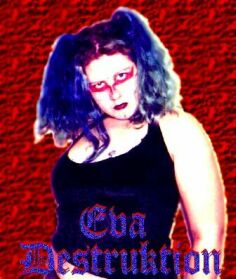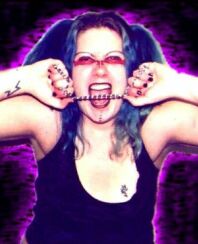 A bonafide 5'10" She-Demon hell bent on turning the world upside down for the sheer sake of it. Don't let her baby-blues fool you, because there's not an innocent bone in her body!
LIKES: motorbikes, muscle cars, her faithful choke chain, loud (and more often than not) offensive music, cussing, breaking pool cues over the odd cranium or two, the sight of blood, the smell of burning rubber and many an unprintable past-time (with the exception of carving miniature wheel-nuts outs of the crusty bits left in the jelly mould)
DISLIKES: Barbie Dolls of the life-size variety, vacuous pogo sticks, knuckleheads and dust busters, fuel efficient vehicles, people who don't offer to buy her an alcoholic beverage from time to time, talking mouths and flailing limbs, pretentious thrill seekers with a devout lack of respect for the natural environment that provides them with the thrill to which they have become accustomed, black bugs, the smell of disinfectant (hospital grade) and just about anything else you could poke with an iron rod.
"I don't care who you are, what you do or where you've come from... If you are a moron, you're going to get on my wick, and that is one helluva destruktive path to tread on!"
Rub her the wrong way and you will be 'Deemed for Destruktion', but don't let that stop you from inhaling a lungful of precious oxygen, because as the old saying goes... Destruktion leads to rebirth!

The Janitor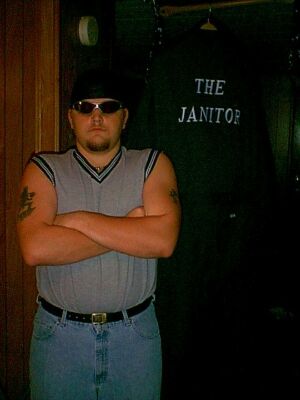 Wt./Ht: 235lbs/6'0
From: Local Bathroom
Promotions worked for: EKCW,AWF
Promotions booked for: EKCW,FCW,WPW,WCWF
Titles held: AWF Hardcore Champ, EKCW Hardcore Champ

Lady Amazon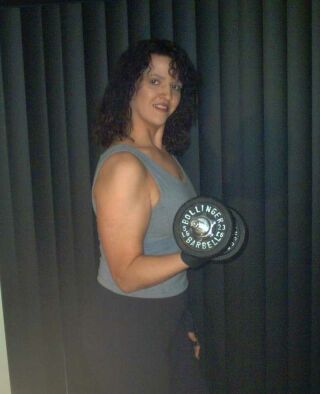 stands 6 ft all and weighs in at 157 lbs.
Her main fed is Wild West Wrestling
and she also works for Mid South Wrestling,
SWA ,ACW, FFW, and
TWA. Also,Women of New England Wrestling.
She also also works under the name The Bounty Huntress
Here she is again with Greg from Tough Enough I.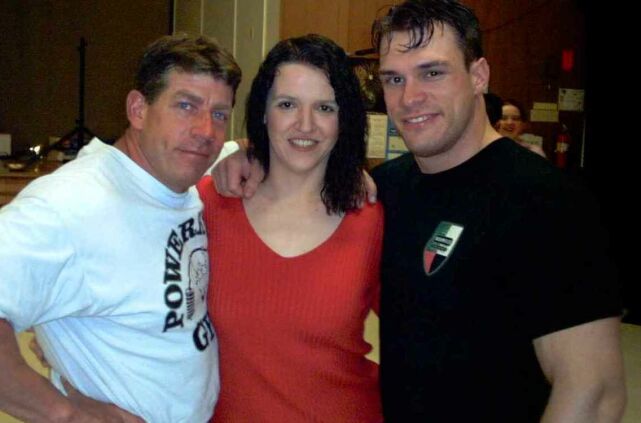 Mad Mac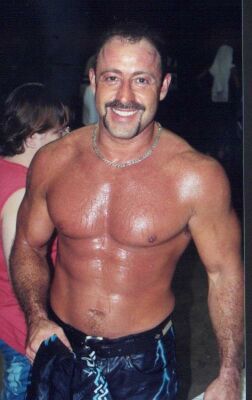 MAD MAC DAVIS
Age: 38
Weight: 198 lbs
How long in the business: 10 months
Hometown: Savannah, Georgia
Special Moves: Frankensteiner, SpineBuster, STF Submission and Pitbulldog.
Finishing Move: "Thunder Shock"
Favorite Food: Italian
Hobbies: Bodybuilding
Titles Held: GPW U.S. Heritage Champion and
Current GPW MultiMedia Champion
Favorite Match: Winning my first GoldBelt
from David Raines in one hell of a brutal battle at GOLDQUEST.

At 38 years of age I'm living a childhood dream of being a
professional wrestler. Traveling and seeing old friends on the road
is part of what makes me tick. It's also fun to give the
fans a story that makes them want to cheer for
the good guy and boo the bad guy. Today,
more than ever, our kids need HEROES and ROLE MODELS, something
I will always strive to be.

Sin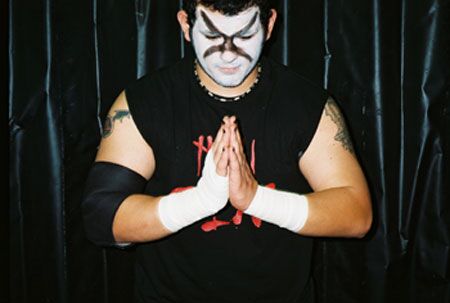 Wrestles for Southeastern Extreme Wrestling & NWA Wildside.
He stands 6'0 ft, and weigh 235lbs.He is from
"Sin Sity," and uses a senton bomb, then a running shooting star press combo
which he calls it "Final Judgement".
You can email him at Extremeshow420@aol.com

Check out the official site of Baron Von Raschke

Indy feds/wrestlers, Page 1
Indy feds/wrestlers,Page 3
Back to the Retro