I am always willing to promote
and help out any up-and-coming wrestlers
here on my site.If you
would like to be featured on
the Retro,please email me at
karmasretro@yahoo.com
tell me what Fed
you work for,your ring name
and general info.If you can
send me over pictures
of yourself in your ring attire,
I will include that too.
All wrestlers on this page were
added with their personal permission...
You can also find me at
MySpace.com/GM58
Who IS Karma?
Dany Yamz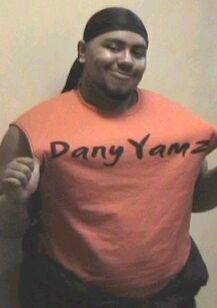 Name: Dany Yamz
Hometown:Hidden Valley Ranch
Ht:6' Wt:300
Signature moves: Hidden Valley Driver(Hell Hammer), enforcer bomb
Fed's Worked for: Real Deal Wrestling, Bodyslam Wrestling
Organization, L.I.W.F.
Can be reached at danyyamzhvh@yahoo.com
Dark Syde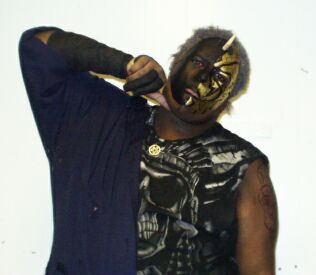 Name:Dark Syde
Hometown:Devil's Dimension
Height:6'2"
weight:313 lbs
Signature moves:Micheal Myers,Moonsault,and top rope Flipping leg drop
Feds wrestled for:Liwf (Brooklyn), Rdw, and BWO (New Jersey)
Can be reached atdevilstheory@yahoo.com
Scott"F'n"Adams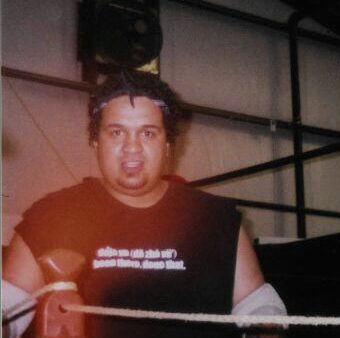 stands in at 6'0, weight 335 and hails from hometown Atlanta,Ga.
He has worked for the following promotions: PCW,IPW.
He just finished his first full year in
wrestling,and I am expecting bigger and better things in my second year.
His web-site is ScottAdams.freeservers.com
"Shake once that's fine,shake it two time that's nice,shake it three times your playing with yourself!!"
C. C. Manson
6' 3" , 250lbs
From: The Spawn Ranch, Death Valley, California, USA
Finisher: Unknown
Fed: NBW(New Breed Wreslting)
Location: Pace/Milton, Florida
First Name: Sam
Name: SiC
Nick Names: "The Whirlwind Daredevil", "The Aerial Assassin"
Height: 6' 0"
Weight: 145lbs.
Titles Held: NBW Cruiserweight Champion, NBW Tag Team Champion, BWF World Champion
Birthplace: Pensacola, Florida
Finisher Basis: Impaler/Evenflow DDT(combo of two)
Finisher Name: The SiCness
Trademark Move: Epidemic(five star frog splash)
History: SiC was born in Pensacola, FL. He had a, I guess you could call it normal life. At age three he was submitted to an orphanage. Then at age 5 Sic was taken to a phsyciatrist, declared legally insane, and taken to Shady Hills Mental Institution. He then got out at age 13, heading back to Pensacola. To find nothing there for him, he made his way to Pace, to meet another tortured soul, the man named Kutless. With the only training he knows is how to survive in a world that has abandoned him, SiC started a new, or should I say, N3W breed of wrestling, the NBW. Armed with his mental instabilities, SiC makes his way through the NBW, winning the Cruiserweight Title his first night, then the Tag Team Titles the second, with his partner, Kutless. Having only one man he can trust, SiC, Kutless, and the rest of the NBW invade the BWF, Backyard Wrestling Federation. Where immediately, he gets a shot at the world title. Do to transportation problems, he fails to make it. So in his place, wrestles his partner, Kutless. Kutless wins the hardfought battle and surprisingly drops the belt to SiC. The next week the new champion, SiC, shows up. He issues an open challenge that is answered by the former champion, JTB. This is a hardfought "Stairway to Hell" match, but SiC comes out on top,showing that he is not only a dangerous man in the ring, but also a sadistic man on the inside, SiC continues his mark on the wrestling industry.
Federation: N3W Breed Wrestling
Location: Pace, Florida
Wrestler Name: Kutless
Nick Name: "The N3W Breed of Superstardom"
Height: 6,3"
Weight: 230 lbs
Alignment: Neutral
Finisher Basis: Sit Down DVD
Finisher Name: The FallOut
Trademark Move: Career Ender (Cradle Piledriver)
Tag Partner: SiC
History: Kutless was born in Aspen, Colorado. Soon after his birth his family moved to Pace, Florida. Kutless was always large in stature and used it to his advantage alot. He began wrestling in mid '97 in a small hick federation called Backwoods Wrestling Federation under the name Night Shift. After a 3 month stint as Heavyweight champ he dropped the title and left. He took a long leave of absence and returned in September of 2002 along with his tag partner and best bud SiC to create N3W Breed Wrestling. Almost immediately Kutless and SiC also known as "Dead Religion" were recognized as the N3W Breed Tag Team Champions. Kutless was shortly after known as the N3W Breed X-Treme Champion. Only three weeks ago N3W Breed Wrestling started an invasion in the BWF owned by former BWF World Champion JTB. Yes I did say former because in his second match in the BWF Kutless won the BWF Heavyweight Title. The very next night after being not deemed to continue Kutless dropped his newly won BWF Title to his very own co N3W Breed Tag Champ partner SiC. We can only wait to see what is next in this Kid's life
Wrestler Contacts:
THE AMAZING VELVET
DAVID KERR
4 TOVEY RD.
CHARLESTON, SC.
29407
USA
843-763-8123
AMAZINGVELVET1@AOL.COM
THE ZEBRA KID (TZK)
SKIP COOK
4721 BANTRY RD.
GROVETOWN, GA.
30813
USA
706-210-8607
TZK@ELVIS.COM
Donnie Brooke
BLOYCE EUGENE "SKIP" COOK, JR.
4721 BANTRY RD.
GROVETOWN, GA.
30813
USA
706-210-8607 TZK@ELVIS.COM
OBJECTIVE:
TO WORK IN THE PROFESSIONAL WRESTLING
BUSINESS ON A FULL TIME BASIS.
TRAINING:
I HAVE TRAINED WITH SUCH INDEPENDENT TALENT AS ICEPICK
MALONE, WCW TALENT JOHN BLITZ AND WWWF TALENT KING
HARLEY. EXPERIENCE:
I HAVE 12 PLUS YEARS EXPERIENCE IN THE PROFESSIONAL
WRESTLING BUSINESS (1990-PRESENT). MY EXPERIENCE LIES
IN WRESTLING, REFEREEING, MANAGING, RING ANNOUNCING,
PROMOTING, BOOKING, TRAINING, ETC.
REFERENCES:
THE FABULOUS MOOLAH AND THE GREAT MAE YOUNG,
803-782-6236 OR 803-782-3077.
BOBBY FULTON, 704-857-6798.
LELANI KAI, 803-788-8197.
RICKY MORTON, 423-274-0626.
SUSAN GREEN, 803-955-0901.
ALAN FUNK, 770-218-9401.
CHRIS DICKENS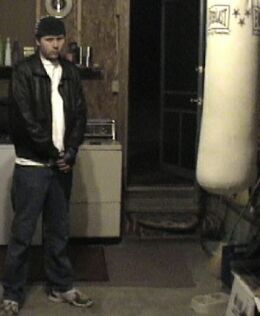 HOMETOWN: GROVETOWN, GA
HT: 6'5" WT:176LBS
SIGNATURE MOVES: CD-X, DICKIE DROP, AND THE CD-T
FEDS WORKED FOR: AMERICAN WRESTLING FEDERATION,
EXTREME WRESTLING ALLIANCE, AND FLATLINE CHAMPIONSHIP WRESTLING
CAN BE REACHED AT: shaggy2k_69@yahoo.com
Draven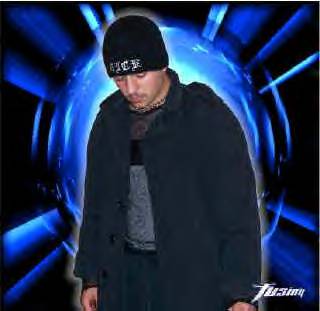 NAME: DRAVEN
HOMETOWN: UNKNOWN
HT: 6'1" WT: 180LBS
SIGNATURE MOVES: DOWNWARD SPIRAL, SEVENDUST
FEDS WORKED FOR: AMERICAN WRESTLING FEDERATION, EXTREME
WRESTLING ALIANCE, AND FLATLINE CHAMPIONSHIP WRESTLING
DRAVEN STARTED OUT AS A WRESTLER WITHOUT TALENT, BUT AS TIME
PROGRESSED, HE LEARNED THAT HE HAD THE SKILLS TO BE A WRESTLER INSIDE
OF HIM. BRINGING OUT THE INNER DARKNESS THAT WE NOW KNOW
AS DRAVEN, HE HAS MANAGED TO CAPTURE EVERY SINGLE CHAMPIONSHIP
TITLE IN EACH ORGANIZATION. DRAVEN'S FUTURE IS CLEAR, AND THAT IS,
HE HAS MORE TO PROVE, AND A WHOLE LOT MORE DARKNESS TOO
Email Draven4life@aol.com
Cameron Star


Wrestling Name: "Pride of the Hawaiian Islands" Cameron Star
Birthplace: Honolulu, HI
Birthdate: May 20, 1983
Height: 5'8"
Weight: 210
Trained by: Dory Funk Jr., Playboy Buddy Rose, Colonel DeBeers
Finishing moves: Starlight Suplex, Moonsault
Entrance Theme: "Got What Ya Need" by Eve
Homepage: CameronStar
Pro Debut: June 23, 2001 for the Funking Conservatory
Promotions worked for: Funking Conservatory (Florida), International
Grappling Alliance (Pacific Northwest), Azteca Pro
(Oregon), Extreme Canadian Championship Wrestling (British Columbia)
NAME: Mr. Every Thing Maxx Sledd


FROM: Any where i want 2 be from
HT: 6ft
CURRENT FINISHER: The Spear
Debut Year: 2002 BIGGEST FUED: Vs. Dirty Chris Hayes
BIGGEST CAREER ACOMPLISHMENT: Becoming A Wrestler
PROMOTIONS IV WORKED: MWA - Mountain Wrestling
Assosiation SRW - Salt River
Wrestling
TITLES HELD: None 2 Date
-- YOUR NOT ANY THING UNLESS YOUR EVERY THING!!! --
Frankie "The Future" Kazarian


6'1 220 born on 8/4/77
Trained by Killer Kowalski
Feds worked: UPW, APW, UIWA, CCW, ACW, WPW, EWF,
IWC, AWA, EWA, NECW, CWA, ICW, MPW, PWA, PWG, WWF (dark matches)
Signature Moves: Back to the Future Suplex (Electric Chair to
fallback pin), Superkick, Springboard Legdrop, Northern Lights
Suplex, Kicking people out of no where.
Finishing Moves: Wave of the Future (Flatliner),
Flux Capacitor (One man Spanish Fly)
PRO WRESTLER PROFILE: SCOTTY NIGHTRAIN
NAME: SCOTTY NIGHTRAIN
E-MAIL:GEORGIACLASSICWRESTLING@HOTMAIL.COM
HEIGHT: 6'
WEIGHT: 197 LBS.
HOMETOWN: PARADISE CITY
TITLES HELD:
NWA WORLD JR. HEAVYWEIGHT TITLE, IWF WORLD LT. HEAVYWEIGHT TITLE, GWA WORLD JR. HEAVYWEIGHT TITLE,
GWA WORLD LT. HEAVYWEIGHT TITLE, GLOBESTAR LT. HEAVYWEIGHT TITLE, GLOBESTAR TAG-TEAM TITLE
(WITH PARTNER: MICHAEL IDOL) PSWF WORLD HEAVYWEIGHT CHAMPION SECW CRUISERWEIGHT TITLE
FINISHING MOVE:
THE ONE LEGGED BOSTON CRAB
PROMOTION:
GEORGIA CLASSIC WRESTLING
LOOK & STYLE:
AN NEW SCHOOL LOOK WITH AN OLD SCHOOL WRESTLING STYLE
HEROES:
THE "EXOTIC" ADRIAN STREET & MS. LINDA
OUTFITS & RING CLOTHING:
BIZARE BAZZAR
SKULLKRUSHERS WRESTLING WEAR & SKULLKRUSHERS WRESTLING SCHOOL
THE "EXOTIC" ADRIAN STREET & MS. LINDA
PROFESSIONAL MODO:
"IF YOU WANT TO BE A STAR - YOU MUST DRESS LIKE A STAR"
The Lumberjacks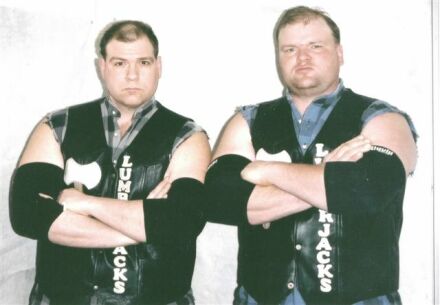 Lumberjack Gabe
Height: 6'3"
Weight: 260 lbs.
From: Ozark Missouri Region
Wrestling Pro For: 14 years
Wrestling Style: Power moves, brawling all out
Signature Move: The Log-Plex, Timber Cutter
Quote: "Going to chop you down."
Lumberjack Abe
Height: 6'4"
Weight: 290 lbs.
From: Ozark Missouri Region
Wrestling Pro For: 15 years
Wrestling Style: Power moves, Brawling all out
Signature Move: Dead Wood Drop, Timber Cutter
Quote: "Going to chop you down!"
Promotions Worked For: *mid-missouri wrestling alliance (MMWA) *southern Illinois championship wrestling (SICW) *Mississippi valley wrestling alliance (MVWA) *central states wrestling alliance (CSWA) *united states wrestling federation (USWF) *Memphis championship wrestling (MCW)
*Power pro wrestling (PPW) *Midwest powerhouse wrestling (MPW) *Isaac championship wrestling (ICW) *Gateway championship wrestling (GCW) *Galaxy championship wrestling (GCW) *Championship International wrestling (CIW)
*World League Wrestling (WLW) *Buffalo wrestling federation (BWF) *Mid Ozark championship wrestling (MOCW) *National wrestling alliance (NWA)
Lacey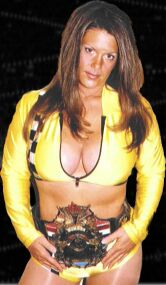 Height: 5'6"
Weight: 137 lbs.
From: Beverly Hills, California
Wrestling Pro For: 2 years
Wrestling Style: Brawling - My way
Signature Move: Pile Driver
Quote: "Kiss This!"
Jack Rotten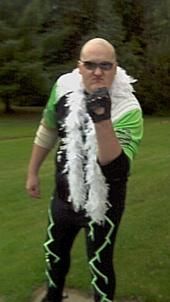 Ring Name: "Jack Rotten"
Height: 6' 7
weight: 340 lbs
HomeTown: Brocton,NY
Favorite Saying: "Let's Get Rotten"
Fed's Worked for: "WWA"GHW"HCW"DWF"wZw"CCW"
Now Working For (World Zone Wrestling)
Signature moves: "Rotten DDT" "The Elbow From Hell" "The Hem royal Flair Up"
D.O.B: 8/20/1980

He has been Pro Wrestling for 11 Years Now.He started when he was 13, Being trained By Wahoo Mc Daniel. Rotten was The WWA Heavyweight Champion 7 Times, and the WZW World Tag Team Champion 9 times With Maverick Diamond. He also was the only man ever to hold 2 title from 2 diffrent Feds .
He recently won the "World Zone Wrestling" Heavyweight champion for the 4th time!
In Erie County,PA, Rotten wrestled the late great "Hawk" From LOD to a 1 Hour Draw on 8/31/02 in Summit,PA at "Road Rage". He is a native Of Czechslovkia.
You may see his fan club at this address http://groups.yahoo.com/group/thejackrottenfanclub/ And you may contact him at JackRotten@hotmail.com
Aarron "Worship Warrior" Haggerty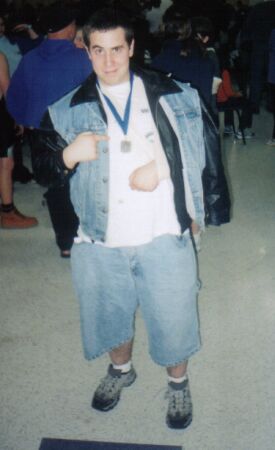 From: Centreville, Nova Scotia, Canada
Age:20
Height: 6'
Weight: 260lbs
Music: Bounce by Thousand Foot Krutch
Finishing Moves: Standing Side Kick, Sharpshooter
Career Highlights (thus far): WBW Lightweight Champion, KAWF World Heavyweight Champion,
MTW T.V. Champion, MTW Canadian Champion, MTW Hardcore
Champion, MTW International Champion, MTW Tag Team Champion (2x),
MTW World Heavyweight Champion (5x)
Currently Wrestles for the ABWF
Mike Thunder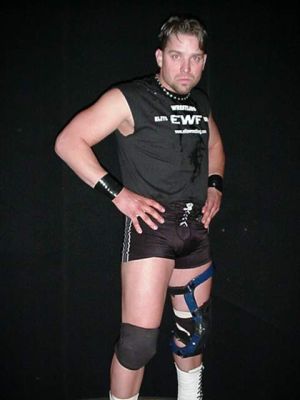 STATS:
Height: 6'0
Weight: 210
HomeTown: WallStreet
Signature Move: Market Crash, Great Depression, Thunder 101, and the Cyclone DDT
Catch Phrase: "Thunder 101 says I just rolled on your ass!" and "Point of Order"
Trained by: School of the Squared Circle Arlington, Tx
Accomplishments:
Former NWA World Champion, Current 2 Time PCW Tag Team Champion, 2
Time Texas NWA Jr. Heavy Champion, 2 Time NWA Tag Champion, 2
Time TCW Tag Champion, Jr. Heavy TCW Champion, TCW Ironman Champion,
Promotions: CSWA, NWA-Southwest, NWA-Wildside, NWA-Florida, TCW, PCW, EWF,
RWG, NWAW, LCW, WWA, CWP and XCW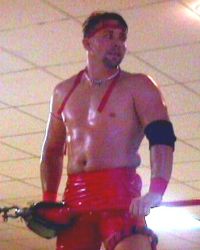 Contact: MThunder101@hotmail.com
DZ Hyde


WEIGHT 270 LBS.
BORN AUGUST 14
YRS PRO ?
PLACE OF BIRTH: NEITHER HERE NOR THERE
TRAINED BY: JIMMY VALIANT "BOOGIE MAN"
FINISHING MOVE: LOOK WHOS LAUGHING NOW
D.Z HYDE has wrestled for many different feds including ICW, AEW,
CWF, and ECCW (Lenoir), GAWF just to name a few: D.Z or HYDE to his
friends can be reached at Dz_Hyde@yahoo.com or Dizzy_Hyde@yahoo.com
Hyde has been on same card with legends the Rock N' Roll Express
Ricky Morton, the Barbarian, Jimmy Boogie Man Valiant, PWI 500 Marc
Ash and Bruiser Graham.
Referee Terry Hopper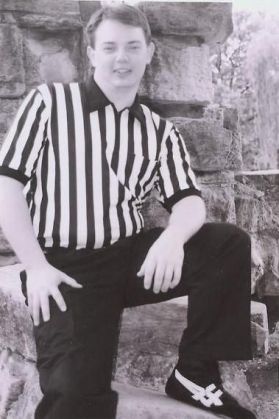 Recent Promotions Worked For: Territory: Promoter: Years Worked:
USA Championship Wrestling Southern States Bert Prentice 2004-Present
Evansville Wrestling Evansville, IN Rudy Charles 2004-Present
Interstate Eight Wrestling Tournament Chicago, IL Jeff Drake 2004-Present
North American Wrestling Federation (NAWF) Midwest States Randy Ricci 2003-Present
Blue Water Championship Wrestling (BWCW) Michigan Andrew D'Arcy 2003-Present
International Wrestling Council (IWC) Chicago, IL Jim Kleckner 2003-Present
National Wrestling League/HoPWF East Coast John Rambo 2003
Capital City Wrestling Washington, DC 2003 Mid-America Championship Wrestling (MACW) Dyersburg, TN Robert Horne 2003
Windy City Pro Wrestling (WCPW) Midwest States Sam DeCero 1997-2002
++ Plus Countless Other Promotions Since 1997.
Trained by Sam DeCero, Mike Gratchner, Jim Kleckner, Steve Boz, and Terry Allen: 1997
TWICE Participated in Seminars and Shows with WWE's Talent Agent, Tom Prichard
1. North American Wrestling Federation (NAWF): October 2003
2. National School of Sports Entertainment (NSSE): April 2004
TWICE Referee for "Wrestling Stars" vs. WGN-9 Cable Network Morning Show
-Aired in April 2001 and February 2004
Featured on Comedy Central cable network "Insomniac with Dave Attel," -First aired in Nov 2001, now on DVD
Referee for Rob Van Dam's final match before his appearing on WWE, -45-min Time Limit Draw, May 2001
Referee for Jimmy "Superfly" Snuka's match before his re-appearance on WWE, -April 05, 2003
Referee for entire cards, and gimmicked as the "Iron Man Ref:" Numerous Feds
Ring Announcer for World's Largest Wrestling Match, 3-Rings: 120- People Battle Royal, May 2000
Commentator for International Wrestling Council (IWC) TV show: 2003-Present
Commentator for Urban American Pro Wrestling (UAPW) TV show: 2000-01 Production: Head Sound and Lighting Technician:
-WCPW May 2000-2002, -Mid-State Pro 2002-2003
*Set Design, overseeing set up and striking entrance sets and overhead lighting
*General maintenance of lights and sound equipment
*Music library intake
FRONT OFFICE:
Booking Agent:
Meeting and negotiating with various workers for shows in Midwest area Creating and implementing ongoing angles
Events Coordinator:
*Meeting, and negotiating Wrestling shows to Schools, County Fairs/ Festivals
*Design and setup of display in County Fair/Festival Association Conventions:
Illinois, Indiana, Wisconsin, *On-Site placement of ring, entrance, lights, sound equipment
Media Liaison,
Writer of news/rumors column under pseudonym "Frank McCool," WCPW website and featured weekly option on WCPW's Hotline.
Coordinator of television and radio media interviews of wrestling stars.
Other Highlights and Features:
Licensed by Federal Communications Commission (FCC) as On-Air Broadcaster Nov 1994-Present
Chevy Bellaire & Shiai Mata, "Battle for the Belt," Lady Sports Magazine, Issue No. 34 Spring 2001: 21-22
Listed and respected actor with Cinema.com, IMDB.com, and Reel.com
Supporting role as "Trent the Mercenary" in feature movie "Absolution" Bullet-Pen Productions, 2003
Costarring role as "Tom" in short film "Simple Geo, Complex Geo" Nodanuff Productions, 2002
Mac Diddy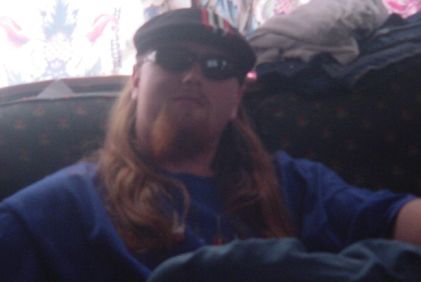 Stands 6'4" and weighs in at 290 pounds,and he claims no fat
either.He currently works for the WWC/EWC and is being trained by
Brodie Ray Chase.WWC/EWC is located in Greenville, South
Carolina. He is 1/2 of the EWC tag team champions along with his
brother Swinger Sweet. Here is ewc/wwc site Main Event Presents.com .Here is
another website which has a column
about Main Event Presents on it: RikiRegal
. Chris Blaze



Ring Name: Chris Blaze
Promotions Working for: SEI-Pro, SCW, MRW, PWR, MCIW,
Promotions Worked For: HWA, OVW, HPW, AWA, EWF
Trained By: Doug Gilbert, Ricky Murdoch
Training Sessions With: Michael Shane(NWATNA), Jake Roberts,
Nick Dinsmore, Nate Webb >BR? Chris Blaze has been wrestling now for 6years and is now taking
bookings for all over the country. If interested in booking me
please e-mail me at ravenpunk0923@wmconnect.com
"Wicked"Trey Webber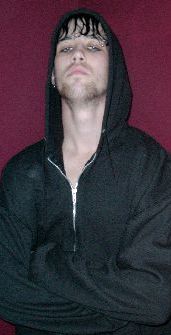 Ring name: "Wicked" Trey Webber
Nickname: "The Walking Horror Film"
Hometown: Darkness Falls, MD
Ht: 5'10"
Wt: 160
Titles Held: MCW Tag Team Championship (with Brandon Mercury)
Finisher: Full Webber Jacket, The Disasterpiece, Webberzerker
Promotions: CCW, MCW
He can be reached at Webberzerk@yahoo.com
Casey Kage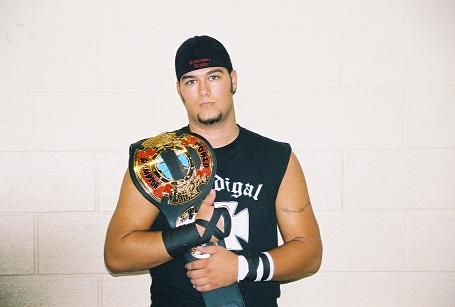 ring name-"Tennessee Dream" Casey Kage
ht- 5'11
wt- 205 LBS
years pro- 1 1/2
finisher- Kage Effect (full nelson into face driver) and The Dream
Crusher (full nelson into overhead belly to back into head driver)
feds- CWA and NWA Pro Wrestling Evolution
Pierre "The Beast" Vachon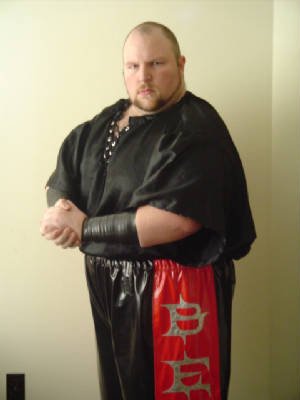 NAME: Pierre "The Beast" Vachon
Pierre "The Beast" Vachon is from a family of legends. From his
Father Paul "The Butcher" Vachon to his uncle Mad Dog, and even
his crazy sister Luna. Pierre is the largest of the Vachon
Family standing at 6'2 385 lbs. Pierre uses his size, strength and
sadistic nature to rip his opponents to shreds. Pierre has made
it his goal to follow in his father Paul's footsteps and become
a champion wherever he goes.
FROM: Montreal ,Quebec (currently resides in Vt)
HEIGHT: 6'2
WEIGHT: 385 LBS.
STYLE: MIX OF HARDCORE AND POWER
YEARS PRO: 4
Promotions Worked For: NWA-NE, NWW, MEW, ACW,
Mecca Pro, WWA (as Xtreme), NWA-GM and others.
TITLES HELD: NWA-GM TV TITLE (2)
Wrestling name: "The True Sensation" Sean Reed


Trained by: Myzery, Hybrid Rain, The Texas Outlaw, and
Pierre the Beast Vachon.
Promotions wrestled: Atlas Championship Wrestling, NWA
GreenMountain, NWA New England, Revval Championship
Wrestling, Hybrid Championship Wrestling.
Has worked with: Tony Atlas, Amanda Storm, The Texas
Outlaw, Pierre the Beast Vachon, Shane Willams, The
Trouble Squad, Myzery, plus many others.
Titles Held: NWA Greenmountain Television Champion,
Hybrid Championship Wrestling Heavy weight Champion.
Height: 6'3"
Weight: 300 lbs.
Sinature Moves: That's Senational(moonsault), Reed my lips driver(body slam to uranagy.)
Points of interest: I am working the 2005 NWA Anniversary show.
Email truesensationshaunreed@hotmail.com
Diafullah The Butcher


NAME: Diafullah Dobashi (Founder & Leader of the A.rab W.orld. O.rder)
HEIGHT: 5ft. 11in. WEIGHT: 225lbs.
From: Yemen & REPRESENTING: The Arab World Order
ORGANIZATIONS WRESTLED FOR: TWF, SCW, UCW, UIW, OWF, OCW, WWF, OPW,
UIWA, CCW, PNW/ECCW/NWA, UCWF, TZW, BWCW, mCw, XBW, PWE,WCWC.
TRAINED BY: Johnny Graham ( @ the Dungun on Hosmer Street, Tacoma,WA )Learned his sadistic style from Abdullah The Butcher.
WRESTLING STYLE: Old School (Catch As Catch Can), Lucha & Hard Core, I can adapt to any wrestling style.
FAVORATE MOVE: The Mistic Fire Ball, The Arab Leglock , His Fork and any other move that hurts.
Black Belt in Isshinryu Karate by Senae Steve Armstrong. Started Pro Wrestling in 1991
Website: AWO4LIFE
The Rat Pack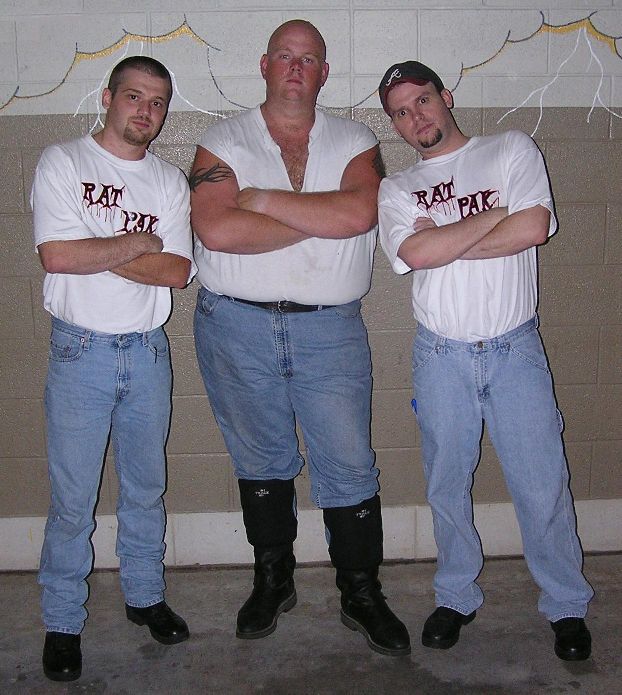 They are Robbie Lee Jordon, Shane Bradley and Rusty Rogers. They
wrestle for O.S.C.W. and are based in Dayton,TN. They run at the
natioanl guard armory there. Robbie and Shane are the
O.S.C.W. tag team champions.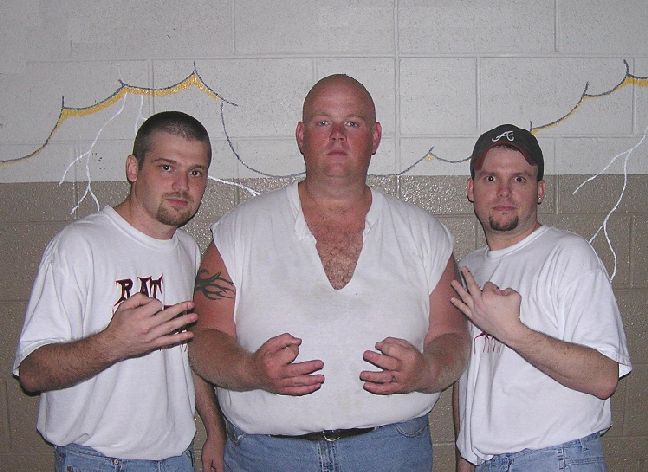 Check out TWA's Taurus!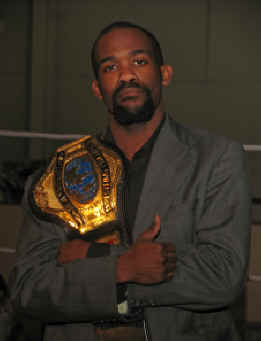 Height: 5'61/2"
Weight: 174 lbs.
Tag Partner: The Invisible Kid
Hometown: Atlanta, Georgia
Experience: 2.5 years
Highest TWA World Heavyweight Champion
Trained By: Phil Deloach & "Rocky King"
The Invisible Kid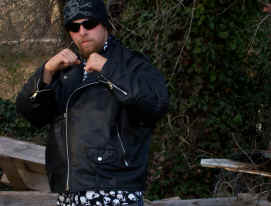 Height: 5'9"
Weight: 200 lbs.
Tag Partner: The Taurus
Hometown: Death Valley
Experience: 4 years
Highest TWA Ranking: N/A
Trained By: Shadow & Mr. Donnie Harley Davidson Crew
You can find out more info about Taurus
and the Invisible Kid by checking out TWA's Website
"Big Gun" Jim Sergeant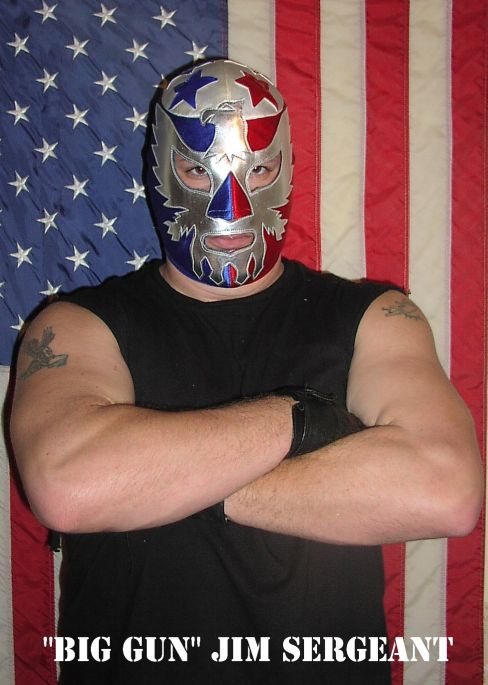 Height: 6'
weight: 255lbs
from: A Classified Location
Trained by former NWA World Tag Team Champion Knuckles Nelson
Feds worked for: WSW, LAW, ATLAS, WCWA, SCCW, YPW
Titles Held: WSW Heavyweight Champion, WCWA Heavyweight Champion,
WCWA Tag Team Champion (w/Kidd USA)
The Soultaker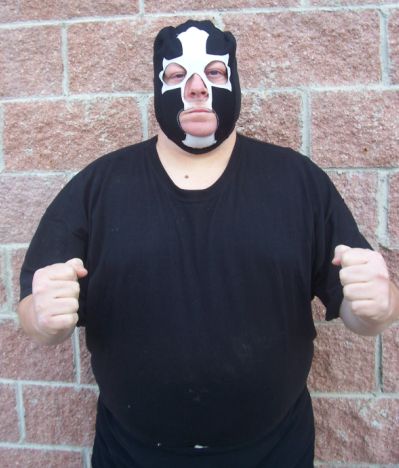 From 7th plains of Hades..
Wrestles in the IWA (Columbus Ohio headquarters)
, CWA (Cleveland Wrestling Alliance),
IWF (Indepent Wrestling Federation)
Finishers are the internal sleep (sleeper hold)
and the Offering (soaman slam)
He was trained by Wild Bull Miller and the
IWA Headlock University wrestling school.
WAR...


Ring Name: WAR
Weight: 230 lbs
Height 6 ft 1 inch
Been wrestling since 1998
Trained by Killer Kowalski JR. and Derek Potocki
Feds worked. United Wrestling Alliance, Syracuse, NY
Hybrid Championship Wrestling, Malone NY
NWA Green Mountain
3rd degree black belt in Combat wrestling, and Judo
Indicted into the United State Martial Arts Hall of Fame
2004 Most distinguished Martial artists, 2005 Martial Artists
Trainer of the year
Website:www.geocities.com/mrrush1
Ring Name: "Madman" Terry Lee


Height: 6'4"
Weight: 264 pounds
Hometown: Union, South Carolina
Hails from: Myrtle Beach, South Carolina
Trained by: "Stray Cat" Brodie Ray Chase
Years wrestling: 2 promotions worked for: AWC, WWC
(World Wrestling Council), EWC
(Extreme Wrestling Coucil) , WFJ (Wrestling For Jesus) , APW
(American Pro Wrestling), and SWA-Extreme.


For Contact or bookings email me at pro_wrestler29379@yahoo.com.
Mr.Terrific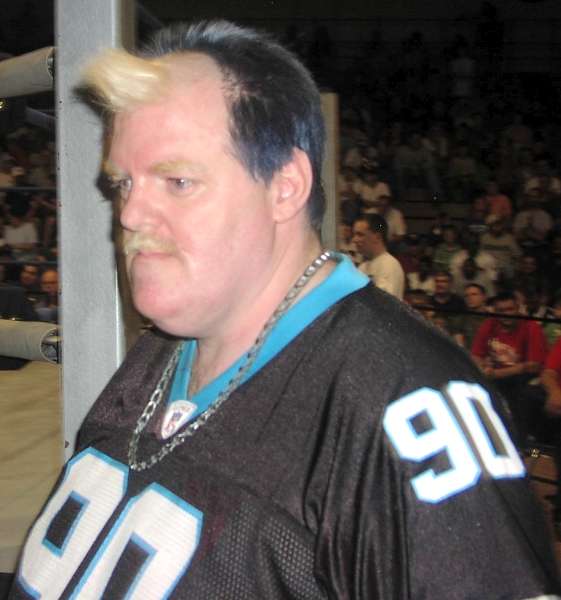 Name: "Mr. Terrific" Tim Lawler
Hometown: Charlotte, North Carolina
Height: 6'3"
Weight: 284 lbs
Finishing Moves: The Terrific Migraine and The People's Splash!
Trained by: Rocky "Soul Man" Johnson, Jimmy "Superfly" Snuka, Richie Magnet and Siva Afa
Promoting, Wrestling, Managing and Refereeing Since: August 17th 1985
Licensed in: Virginia, Kentucky and South Carolina
He has been involved in Professional Wrestling for almost 21 years.
I recently began sharing my managing skills and Wrestling knowledge
to great Wrestling SuperStars such as WWE Hall of Fame member Greg
"The Hammer" Valentine, The Barbarian, Kamala, Demolition Ax, Damage Inc.,
"The Queen Of Pain" Naudia, Evan Force, "Romeo" Mark Slain, Viper, Buz,
ST Ryker, Little Joey Payne, Jesse Black, Psycho Simpson, Tracy Smothers,
Sonny Landel, Sir Jonathan Buffett, David Austin,
Steve Cronic and Jimmy Kindrid.
Check out his MySpace
Indy Feds/Wrestlers,page 1
Indy Feds/Wrestlers,page 2